Take the conversation further at our upcoming events and conferences
Leadership Series - Navigating the Turbulence of the Automotive Industry
Given the current challenges in the automotive industry with the UAW strikes affecting supply chains, the shift from combustion to EVs, and the inflation impact, 1TCC understands the difficulties automotive suppliers are facing. 
UPS Director of Business Development Chris Parga discusses prominent supply chain challenges
In this exclusive replay, catch a glimpse of Chris Parga, UPS Director of Business Development, as he dissects the prevailing supply chain challenges. Tune in to gain valuable insights into the complex hurdles that businesses encounter today. Discover innovative strategies and stay ahead in an ever-evolving, competitive landscape.
Amid the flight to quality trade finance assets: risks and opportunities
Amid increasing economic turmoil, credit risks and higher lending costs, banks are in a bind to keep trade finance assets accessible. Meanwhile demand from corporates – especially for inventory financing – is also on the rise. Can fintech platforms provide a cost-effective, low risk solution for banks to cash in on the billion-dollar inventory market, capture quality credit clients and demand higher yield?
How to not destroy corporate value in 2023
Rising interest rates, recession fears, inflation risks, and continued supply chain disruptions could spell doom if corporates don't stay nimble. How can leaders hedge risks? What are some proven strategies, and where can the right dose of innovation be applied to come out ahead?
Will future CEOs come from supply chain?
Supply Chain leaders today have become strategic players in enabling companies to stay resilient and operationally efficient in these changed market scenarios of unplanned disruptions and inflationary pressures.
In this session we will discuss how supply chain and procurement leaders will dominate corporate leadership actions as they deal with current challenges and opportunities. How will they drive corporations to stay agile, competitive, and collaborative amidst pressing sourcing and fulfillment challenges.
Expert panel with leaders from McKinsey & Company, UPS, and Spencer Stuart.
Bankers Association for Finance and Trade
TCC presents thought leadership workshop at BAFT Global Annual Meeting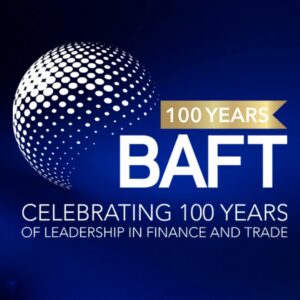 More tech firms are penetrating into core banking business while corporates now expect more innovative solutions to lower working capital exposure. Banking and fintech industry leaders Andreas Neumeier, Head of Corporate Banking TMT at Truist Securities; 1TCC™ Co-Founders Sanjay Bonde, CEO, and Michael Doran, CFO, will be leading a discussion on the risks and opportunities presented by a bank-fintech collaboration. 
"Capital as a Service – Collaborating with Fintechs to Grow Investment Grade Business"
Monday, May 2 at 2:45 PM EDT at the 2022 BAFT Global Annual Meeting in Washington DC.  
Introducing TCC's Exclusive CaaS Wallet
Our Capital Meets Your Supply Chain
TCC's patent-pending CaaS Wallet, the world's first suite of trade capital options to empower CFOs, treasury, and procurement executives, launches on April 21, 2022.
CaaS Wallet Launch Event
April 21, 2022 at 5:30 PM PDT
Menlo Park, CA
Contact us for more information: 1TCC@1TCC.com
Breakfast Series on Global Trade Finance
Undercurrents of Change in Supply Chain Operations, Technologies and Finance
Supply chain challenges and risks will continue to drive critical outcomes in 2022. In this panel discussion on Feb. 25, 2022, our guest speakers Tom Linton, Senior Advisor at McKinsey & Company; Gus Shahin, CIO at Flex; Sanjay Bonde, CEO of TCC, and Chris Collier, TCC Executive Board Advisor, share insights and best practices for managing change, adopting emerging technologies, and driving operational resilience during challenging times of uncertainty and significant, fast-changing market conditions.
Breakfast Series on Global Trade Finance
Managing the turbulence of supply chain disruption, geopolitical realignments and inflation and finance
What are some of the best practices and innovative FinTech solutions that can help CFOs and treasurers minimize the impact on production, inventory, and optimize capital efficiency during the global supply chain disruption?
1TCC™ Executive Board Advisor Chris Collier on Oct. 29, 2021 hosted a panel of industry leaders from Truist Securities, Flex and Deloitte to discuss the challenges and opportunities presented by outsourced trade funding.